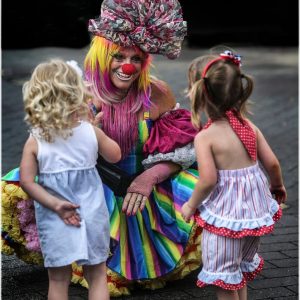 BJ the Clown
Mimi founded Klown Kapers Inc in 1983 after completing her Bachelor of Fine Arts in Theater from Florida State University (1977) along with her Florida Teachers Certification in Secondary Level Drama Education (1978). Mimi created a character (BJ the Clown) in honor of her two small children, Benjamin and Julie Rose. Mimi traveled from one show to the next, building her clientele for many years while also teaching full-time drama classes and mentoring individuals. BJ the Clown became quite popular (and well requested) in the area, being the only service provider of this kind for decades. Services that include, Clowning, Story Telling, Puppetry, Face painting, Ballooning, Quick Sketch, DJs, Magicians, Character Actors, Henna, Temporary Air Brush Art, Juggling, Fire Performances, Sing-a-grams and so much more!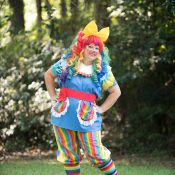 Rosie the Clown
Julie has been a children's entertainer since she was a child herself! Being the daughter of BJ the Clown, Julie has been performing with BJ's Party House since the early 90's. Julie became more involved with face and body painting in 2002 where she would regularly attend face and body art conventions each year and also became an instructor for 5 years. Julie trains all of the face paint artists that come to BJ's Party House in technique, hygiene and products as well as how to interact with large crowds. In addition to being a BIG part of her family business, Julie was also a preschool teacher for 12 years as well as a dance teacher of tap and ballet for young children for the past 15 years. You can find Julie at large festivals and events such as Springtime Tallahassee, Lemoyne Arts Festival, Northside Get Downs and the North Florida Fair!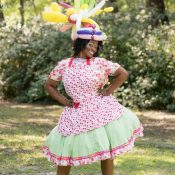 Ceil the Mime
Ceil became a creative consultant and partner of Klown Kapers Inc. after having auditioned for and building a fan base for this Corporation by 1990. Ceil is a well-known performer as "Ceil the Mime" throughout North Florida and Georgia. Through this character, Ceil has provided hundreds upon hundreds of stage, street, school, mall, church, legislative, private, and broad public event performances in her 38 years in the business. Ceil is the consummate versatile artist with expertise in Signing, puppetry, photography, face painting, character acting, balloon sculpting, dancing, modeling, and more! Ceil specializes in special event decor and design from tabletop decorating ideas to exotic balloon decor and design in the form of Giant Arches, Columns, and Flower. Ceil's passion and her work is unparalleled in our area!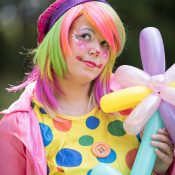 Polka Dottie
Mary is a performer that usually performs as her Clown Persona — Polka Dottie. Mary is a passionate and talented balloon artist that loves to get into character and bring joy through her art. Mary has worked with the company for many years and has proven herself to be a reliable performer. At a very young age, she said she wanted to "be a clown" when she grew up, and that is just what she did! Mary has a lot of experience working with children, as well as with children and adults with disabilities. Mary is also a musician and occasionally is booked for gigs that involve playing an instrument. For example, during the holidays, she has repeatedly been booked for gigs where she dresses up as an elf and plays holiday songs on her guitar. Mary has a BIG fun-loving and friendly personality and adores working with the public through art and music.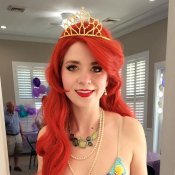 Melissa
Melissa is a visual arts student at Florida State and has been with BJ's Party House for a year. Melissa is a character actress that can portray several popular princesses and classic characters. Because of her art background, she has picked up face painting quickly and has also landed a few mural projects in Tallahassee. Melissa has had the pleasure of painting hundreds of adorable faces and posing for so many cute pictures with children of all ages! More recently, you'll find her drawing custom coloring pages and delivering gift baskets in popular costumes such as mermaids and princesses. Melissa says the best part about working with BJ's is making kids feel happy and special. She loves kids' creativity and collaborating with them to make their awesome ideas happen!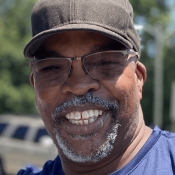 Mike
Michael is a master artist and his story begins in Chairs-Capitola. A local of Tallahassee, Mike attended Chaires Elementary, Elizabeth Cobb Middle, and graduated from Lincoln High School. Mike has been drawing since his youth. He has always been fascinated with comic book art and has always attempted to draw his comic book hero. This is what led him to develop a love for art. Through the years, drawing just for fun, everyone encouraged him to do something with his talent, and he gravitated toward caricatures. Now he constantly practice and study to become better at the art of caricatures. Mike is a current member of the International Society of Caricature Artists, where he is in touch with colleges that help him to develop his skills further. Mike has been an artist at BJ's Party House for eight years, and we are proud to have him in our troupe!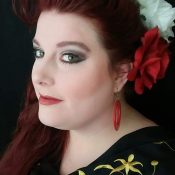 Tiffany
Tiffany has been working with us since 2015. She has always enjoyed painting, drawing, and makeup artistry. She especially loves drawing cartoons and anime characters. When presented with the opportunity to work with art at BJ's, she was excited to join our team! Tiffany has learned face painting and henna tattoo techniques under our professionals and later had the opportunity to study under other professionals at Face and Body Art conventions. Working with BJ's allowed her to work with children and art, and nothing makes her happier than seeing someone smile because of her work. Tiffany enjoys dressing up in colorful clown-y Rainbow outfits, as a Fluffy Purple and Blue Monster, or even a beautiful Vampire Countess (during Halloween). She loves the opportunity to go to tons of different events and parties to brighten up someone's day!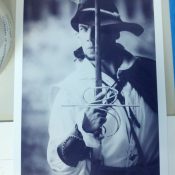 Arnold
Arnold is an amazing one of a kind, versatile actor! From classic characters to those of his own design, Arnold is a master in the arts! Arnold's characters are always well researched and designed with attention to detail like none other! Arnold's vocal impersonations, impeccable dialect, and well-scripted shows make him a well sought out talent for a wide variety of venues! Arnold has graced many private and public events with his emcee expertise, his character interpretations, and his exciting temporary airbrush tattoo artistry. We celebrate seven years with Arnold's participation with BJs Party House performances.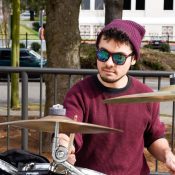 Marcos
Marcos has been on the team at BJ's Party House since Summer 2018. He is one of our house musicians and loves playing the drums and piano at various events. He has taught percussion and drumline at two high schools, as well as private lessons with young children. Marcos is a music student at FSU and is an extremely talented young man! His favorite event with BJ's so far has been the Children's Day At The Museum, where he plays along to some tunes with the drums and brings plenty of extra instruments for anyone to join in the fun! Kids love this activity, and he is always popular with the crowd wherever he goes! Marcos is also a character actor and stilt walker!
Zion
Zion is a highschool student that has been working with BJ's Party House for two and a half years. However, she has always been involved with the family business as she is the granddaughter of BJ the Clown. Zion is a character actress, balloon twister, and a face painter in training. The more events that she attends the more she sees that the reason we do what we do is to put a big smile on the kids' faces! Zion's favorite character to portray is Cindi Lou Whoo during the holiday season. People say life's not a party, but when you are working for BJs Party House it is!
Neil
Neil is a master artist and has been working with BJ's Party House for over three decades. Neil is an amazing quick sketch artist that specializes in portrait artistry. Neil is a former Disney quick sketch artist and can create fantastic oil paintings as well. He has a collection of over 150 oils canvas paintings that he has gallery showings of a few times per year. In addition, Neil is an expert sign creator and can also do fantastic mural artistry.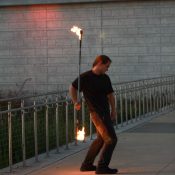 Allen
Allen's love for juggling and fire arts takes him back to his High School years learning from one of the best in Tallahassee at Sail High School! Now, as a well-seasoned performer, Allen has whetted his performance appetite for the past six years providing amazing LED juggling and Fire Performances with The Party House Pyros. Allen is well known for his fire Staff performances and his skilled juggling techniques.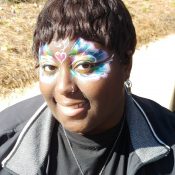 Dea
Dea is one of the many talented artists from BJs Party House and she can do balloon art, face painting, and airbrush tattoos! Dea has been in this type of work for 8 years now training, working, and helping on the sidelines as a children's entertainer. In addition to entertaining, Dea loves to paint and do arts and crafts as hobbies. Dea has been with BJ's Party House for almost a year and plans to continue making fun memories with her co workers and clients!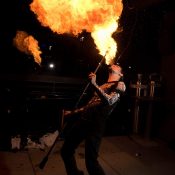 Robert
Robert is a talented and daring young fire performer who has graced BJ's Party House with his artistry for the past 7 years! Robert is a remarkable, experienced Katana (swords) and fire staff performer- in addition to being an awe-inspiring Fire Breather and instructor. Robert is also a master Wax Hands Machine technician whose expertise takes him to a large festival and fairs convention every fall.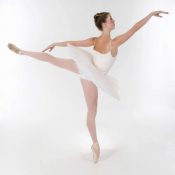 Carri
Carri is new at BJ's, and she is thrilled to showcase her skills with all of these talented artists! She has been a ballet and modern dancer most of her life, training and performing first in her home state of Indiana and later at Florida State University. After earning her Bachelor of Fine Arts in Dance, she has worked with the Tallahassee Ballet for the past seven years! She is also skilled in LED hoop dance!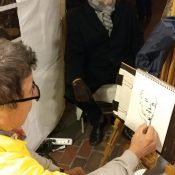 Hyuan
Hyuan is a well known Professor of Art and sculpture. When available, we are fortunate enough to have Huyan provide amazing quick sketch renditions that are traditional as well as offered in Korean Black inc on Rice paper! Unique, exquisite and wonderful are the words to describe the work of this sensational artist- whose multi medium sculptures and paintings are exhibited in France and in the United States at this time.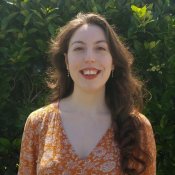 Seana
Seana is a gifted artist that is currently a visual arts major at FSU. She portrays many different princesses, fairy, and clown characters and has been working with BJs Party House for a year and a half. We are thrilled to have Seana as part of our team!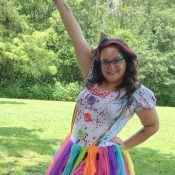 Maribel
Maribel has been working with BJ's Party House for 8 years! Before she started working with BJ's Party House she was a preschool teacher specializing in Spanish and Art. Maribel has always loved working with children and is a talented artist that is bilingual. She also enjoys creating art in different forms and with different mediums.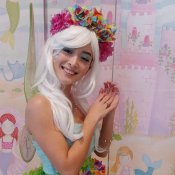 Rachel
Rachel is a very talented artist that has worked with BJ's Party House for over three years off and on. Rachel has her degree in graphic art design from FSU. She portrays princess, fairy, or clown characters while she faces paints or does airbrush tattoos. Rachel is cute as a button and has a bubbly personality.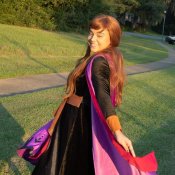 Marisa
We welcome Marisa as a new character actress to BJ's Party House. She has previous experience working with children and their families in birthday party settings around Jacksonville, prior to her employment with us. Marisa is training as an airbrush tattoo artist and balloon artist, and we are all thrilled to have her as part of the team.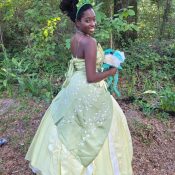 Zira
Zira is a talented and personable actress who loves to portray characters who make a difference! Zira's love for The Arts and the children she performs for is as magical as are her appearances, and we are thrilled to have her participate as a member of BJs Party House troupe!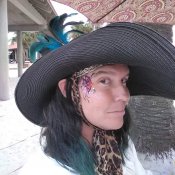 Tina
Tina is a multi-talented artist that has been with BJs Party House for over six years! Her sweet and bubbly personality comes through, no matter if she's a pirate, clown, or any other whimsical character she can dream up. Tina specializes in balloon art, face painting, airbrush tattoos, and seamstress work-making costumes.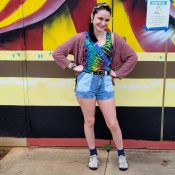 Marissa
Marissa is an experienced ink Tattoo artist who loves everything body art. She has worked as a tattoo artist for years and decided to extend her purview to include the Henna field. In addition to her expertise in the tattoo arts, Marissa also enjoys performance and character acting.​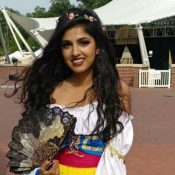 Megan
Megan is a Florida State alumni and a Tallahassee native who has been with BJ's Party House for over 3 years. She is a talented henna artist who can create intricate designs of all sizes! Megan is a beautiful character actress and can portray Moana and Jasmine for a meet and greet.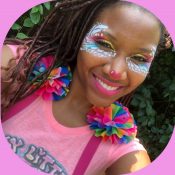 Ashlee
Ashlee is well known in our area for her unique face artistry and her love of children! With over seven years of experience in her chosen art form, we are honored and pleased to work with Ashlee and all of her fans who request her artistry! Look for Ashlee wherever wholesome, fun events are happening for families!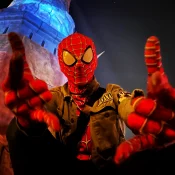 Lorenzo
Lorenzo is new to Tallahassee and to BJs Party House! Lorenzo is studying theater at FSU, and he portrays multiple superheroes and other male characters for our company. Lorenzo is also a talented musician and vocalist, as well as bilingual. We are excited to have him on our team of talented people!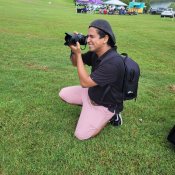 Manuel
Manuel A. Hernández is an artist who approaches art as an idea. He uses his artistic context to communicate, comment, and question society. The material of his works constantly varies, so he considers himself more of a modeler of ideas. His work has been exhibited throughout Cuba and at international art events. He is currently dabbling in the photography business during his t's, specifically in portrait and event documentary photography.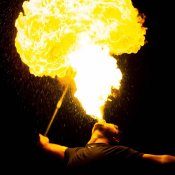 Travis
Travis is a theatrical and dynamic performer. Travis loves to WOW the crowds with his fire poi and fire breathing skilled that he has accomplished over the past ten years of working with BJs Party House. Available for any event, large or small.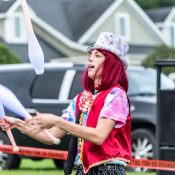 Jordan
Jordan, also known as Loopy the Clown, is an enthusiastic, fun-loving juggling artist who loves working with children! Her performances are interactive, inspiring, and well sought after!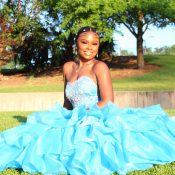 D'Nai
D'Nai is an experienced performer who is versatile and loves working with children. We are pleased to welcome D'Nai to our troupe!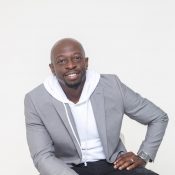 DJ Raines
DJ Rain is an enthusiastic, crowd-pleasing DJ with a fabulous sound system and a personality to match! This DJ will go above and beyond to make your event the success that you envision!
Amanda
Amanda is a multi-talented and versatile performer who loves children, balloon sculptures, and the art of prosthetic and scary makeup! Amanda is also a giant bubble artist and face painting enthusiast!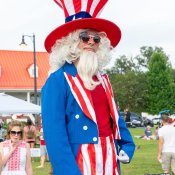 Marcos
Marcos is a fantastic Concert Pianist, Drummer, and FSU School of Music graduate student. Specializing in Music therapy, Marcos and his musical talent bring to life a variety of relatable characters to everyone's delight! An avid stilt walker and snare drum artist, Marcos often offers his services as a stilts artist upon request.
Annette
Annette is a character actress whose love for children goes without saying. Annette is a former Elementary School teacher and brings terrific insight and knowledge to each role she undertakes. We are proud to present Annette as a member of our performance troupe this year.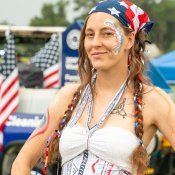 Hazel
Hazel is an enthusiastic, dedicated performer whose interest in learning about her character interpretation for each topic and role she undertakes is stellar! A hard worker, and a novelty interactive booth team leader, this is our third year working with Ms. Hazel.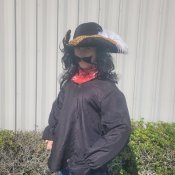 Ryan
Ryan is a talented young artist who is working on a wide variety of performance opportunities. Below, Ryan took on the role of look-alike Spidey and Hook recently, to the delight of his interactive audiences in North Florida. Ryan enjoys performing work with and for others- in his spare time.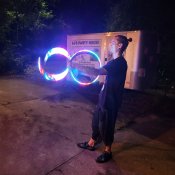 Aaron
Aaron is new to the Tallahassee scene. He has been spinning fire for over a year, and his main props are the Leviwand and Buugeng. He is also an AI developer, but with his passion for fire performances and LED spinning - he is ready for the next step!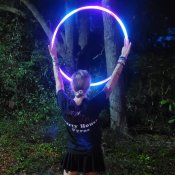 Camille
Camille is an LED and fire flow performer; her passion is creating beautiful, compelling light patterns to captivate your event-goers' attention. She curates each of her light shows to accommodate the client's needs. Her preferred prop is the hula-hoop, which allows her to craft creative shapes and incorporate dance into her routines. Camille is currently an M.F.A. candidate at Florida State University, where she studies Non-Fiction writing and teaches composition classes to incoming undergrads. She looks forward to bringing her creative talents to Tallahassee.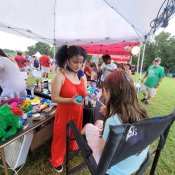 Mary
Mary is an apprentice artist in hair, glitter tattoos, hair with flair and cameo appearance performances.
Jordan
Jordan is an awesome juggler and a fine young actor! Pictured here as Humpty Dumpty, Jordan is a performing artist that is always willing to go the extra mile! We welcome Jordan into our troupe!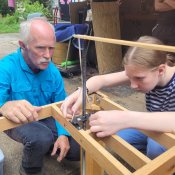 Jeffri
Jeffri is an apprentice who loves performance art and whose passion for math leads her to her interest in providing the mystical pendulum swing interactive art system as an artistic experience for her guests.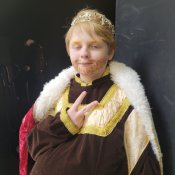 Caleb
Caleb is an apprentice artist whose interest in acting and computer artistry is aspiring and promising.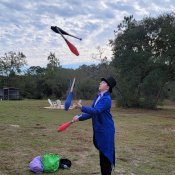 Corbin
Corbin is a young artists with many talents! Corbin is a seasoned juggler and is new to acting. We are thrilled to include him in our troupe this year!