Mimi (BJ the Clown)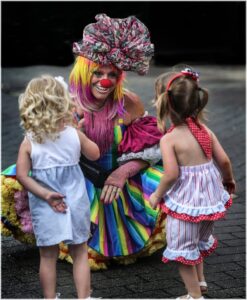 Mimi founded Klown Kapers Inc in 1983 after completing her Bachelor of Fine Arts in Theater from Florida State University (1977) along with her Florida Teachers Certification in Secondary Level Drama Education (1978). Mimi created a character (BJ the Clown) in honor of her two small children, Benjamin and Julie Rose. Mimi traveled from one show to the next, building her clientele for many years while also teaching full-time drama classes and mentoring individuals. BJ the Clown became quite popular (and well requested) in the area, being the only service provider of this kind for decades. Services that include, Clowning, Story Telling, Puppetry, Face painting, Ballooning, Quick Sketch, DJs, Magicians, Character Actors, Henna, Temporary Air Brush Art, Juggling, Fire Performances, Sing-a-grams and so much more!
The concept for Klown Kapers Inc and BJ the Clown was to provide a unique wholesome entertainment venue for the community, as well as a mentorship and training facility for aspiring artists. Because BJ the Clown became quite popular as a roving performer (traveling to people's home parties and City-wide events) within the first five years of her clowning career, BJ founded a brick and Mortar shop entitled BJs Party House, at the Cottages of Lake Ella. People were invited to host their events on the lake at this location, and this service was offered there for 18 years in the heart of Tallahassee. Many artists and events were featured there during this time period. After the Tallahassee floods came and went, BJ's Party House was relocated and continued to provide top-notch artists and artistry (for out bookings only) to this very day!
While Mimi was serving as an Artist in Residence, for the State of Florida, Division of Cultural Affairs in K-12 schools in Monticello, Florida (1984). Mimi met and provided auditions for artists to assist with a local television show for WFSU TV entitled" BJS Buddies." This audition is where Mimi met her creative partner, Ceil.
As the original BJ the Clown and Ceil the Mime, Mimi and Ceil developed a friendship and fan base that helped this performing arts corporation grow and allowed them to take in more artists at no charge to the artist.
The advanced training of many artists in the past 37 years has provided for a solid foundation for new artists, aspiring artists, and graduating college seniors in a variety of fields. Many have gone on to professional careers throughout the state, the country, and around the world.
Mimi comes from a line of entertainment professionals. Her uncle owned and operated the famous Sols Liberty Shows in the 1930s, and her Grandfather mentored performers and performances of some of the greats like Jimmy Durante, Patsy Cline, and Louis Armstrong. This was done back in Syracuse, New York, through Onandoga Supply company family stores. It provided some of the first Ford Motor Car parts and the return for meltdown (and redistribution) of vinyl records in exchange for new ones back in the day!
Kathryn (Ceil the Mime)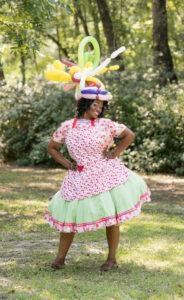 Kathryn became a creative consultant and partner of Klown Kapers Inc. after having auditioned for and building a fan base for this Corporation by 1990.
Kathryn is a well-known performer as "Ceil the Mime" throughout North Florida and Georgia. Through this character, Ceil has provided hundreds upon hundreds of stage, street, school, mall, church, legislative, private, and broad public event performances in her 38 years in the business.
Ceil is the consummate versatile artist with expertise in Signing, puppetry, photography, face painting, character acting, balloon sculpting, dancing, modeling, and more!
Ceil specializes in special event decor and design from tabletop decorating ideas to exotic balloon decor and design in the form of Giant Arches, Columns, and Flower. Ceil's passion and her work is unparalleled in our area!!
Julie (Rosie the Clown)
Julie has been a children's entertainer since she was a child herself! Being the daughter of BJ the Clown, Julie has been performing with BJ's Party House since the early '90s. Julie became more involved with face and body painting in 2002 where she would regularly attend face and body art conventions each year and also became an instructor for 5 years.
Julie trains all of the face paint artists that come to BJ's Party House in technique, hygiene, and products as well as how to interact with large crowds. In addition to being a BIG part of her family business, Julie was also a preschool teacher for 12 years as well as a dance teacher of tap and ballet for young children for the past 15 years. You can find Julie at large festivals and events such as Springtime Tallahassee, Lemoyne Arts Festival, Northside Get Downs, and the North Florida Fair!
    Contact Information
Email: klownkapers@yahoo.com

 

Phone Number: (850)-222-0028

Address: 5151 Quail Valley Rd Tallahassee, Florida 32309-6682 United States