BJ's Party House
Quality Visual and Performing Arts services
Since 1983
When booking BJ's Party House artists, you can be absolutely certain that you are booking the finest in wholesome family entertainment in North Florida and the surrounding areas! Decades of experience (since 1983). Certified professionals and educators in all genres of visual and performance art sets us apart from the rest.
✓ Birthdays
✓ Family Gatherings
✓ School Events
✓ College Functions
✓ Corporate Events
✓ Reunions
✓ Fairs
✓ Sororities/Fraternities
✓ Picnics
✓ Graduation Parties
✓ Festivals
✓ And More!
Our History
Klown Kapers Inc. (BJ's Party House est. 1983) is a registered professional wholesome family entertainment corporation dedicated to providing the finest variety and caliber of artists available to serve events in Florida and in surrounding areas and states. BJ's Party House specializes in providing the total package when it comes to large events, school carnivals, grand openings, block parties, sports events, weddings, bar mitzvahs, and all theme-related parties.
Why Hire Us?
BJ's Party House is a veteran family owned and operated business that can service all of your entertainment needs. BJ's Party House auditions and apprentices each artist in an intensive one on one training program so that a high standard of performance quality is achieved. Party and large event planners LOVE us because we are one-stop shopping! We have multiple artists in each genre of highly trained professionals that can provide these services near and far. Our artists are insured and hold level 2 status clearance in our local school system. When you are looking for the best in quality wholesome family entertainment, look no further! …You found us!
Awards and Affiliations
Partner in Excellence with Oak Ridge Elementary School 2018

Certificate of appreciation presented to BJs Party House by Leon County Sheriff's Department, Tallahassee Police Department, Leon County School – 2004- 2017

Proclamation for excellence in performing and visual arts as well as providing successful training, mentorship and job placement programs for artists awarded by Mayor John Marks – 2014

FABAIC – (Face And Body Art International Convention) – Group Body Paint Award Winner – 2011

FABAIC (Face And Body Art International Convention) Heart of the Artist Award Winner- 2010

Springtime Tallahassee Award Winners 1988 and 1989
Members of the American Legion Post 13
Proudly Sponsoring
Girls On The Run Big Bend ›
Autism Awareness 5k ›
St. Jude Children's Hospital 5k ›
Children's Day at the RA Grey Building (Florida Museum Of History)
Chef Sampler Foster Kids Event
Women's Club Foster Children's Holiday Event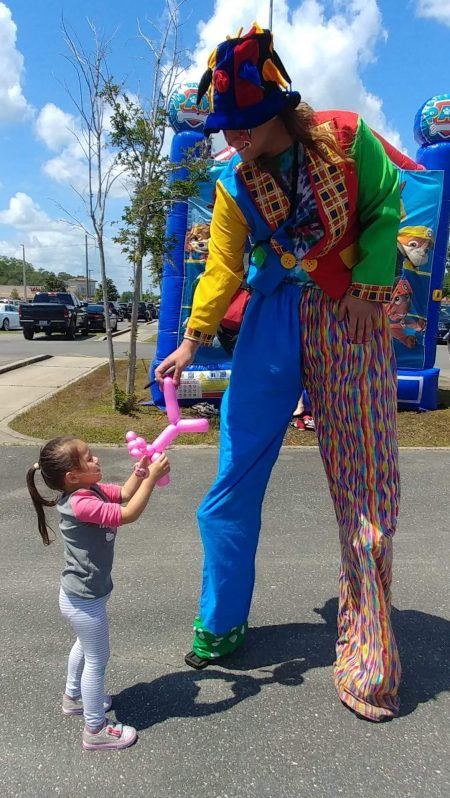 We tailor our services to fit your needs